Hey there, I recently checked out an LGBT-friendly video game called Read Only Memories. The demo is available on Steam for free, so I figured I'd play through it and then offer my thoughts on it!
Read Only Memories is a cyberpunk themed point-and-click puzzle game in which you play a cash-strapped writer who must save close friend Hayden after he is kidnapped for his work on artificial intelligence projects. You are assisted by his chatty robot Turing (named after famous gay scientist Alan Turing) as you talk to people and machines in the town to figure out just who took him and why.
Like many point-and-click games Read Only Memories is filled with tons of descriptive and occasionally humorous writing about the places, people, and things you encounter and interact with. Some of the information you read will be important and help guide you in what to do next. As such, if you are not big on reading and you're looking for a more action-packed game, this one is probably not for you. However, if you enjoy a good story and are interested in learning about the mysteries and characters involved, this might be right up your alley.
The game goes for a retro feel in terms of design and gameplay. Point-and-clicks are a bit of an older genre, and the graphics and text make it seem like you're playing a game from the 90s. The fact that it's an imagined futuristic world with talking (and sentient) robots just adds to this. It does its genre well and has good music too, avoiding the classic tinny sounds of old gaming platforms but still keeping a cyberpunk feel in the songs it chooses.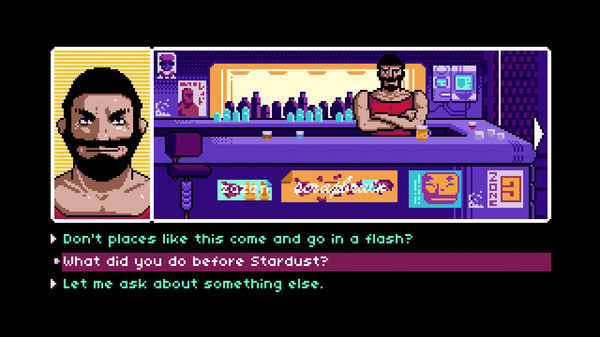 Finally, the game is quite open even in the demo that it is an LGBT-friendly world. Upon meeting you, your robot buddy Turing asks you how you would like to be addressed and gives you several pronoun choices. One of the characters you meet in the demo is a female police officer whom you know because she dated your sister. There's also a bar owned by a gay couple and of course the many people you meet who are "hybrids", which presents a futuristic metaphor for otherness, discrimination, and equal rights.
Overall this game is one I would pick up for the story, as there is so much to read that it's kind of like having a book where you have to figure out what the characters are going to do next. It also seems like different characters' attitudes towards you can change depending on your actions so that could add a bit of replayability if you are interested in specific storylines in the game. If you're a patient player who enjoys a good puzzle, check out Read Only Memories on Steam.